The Hand Crafted Kitchen
Week 5 Rolling Pins and Pastry Cloths
I'll be the first to admit my rolling pin is just a basic wooden spinner with handles. Until I started looking at the hand turned pins I really had no idea how many styles there were. To top it off the kiddo and I have been watching The Great British Baking Show on Netflix and the variety of pins they use is kind of amazing to someone who's only ever used a spinner.
Just look at how many styles Cattail Woodworks has. I LOVE this store on
Etsy. Do yourself a favor and visit, just gorgeous functional artwork!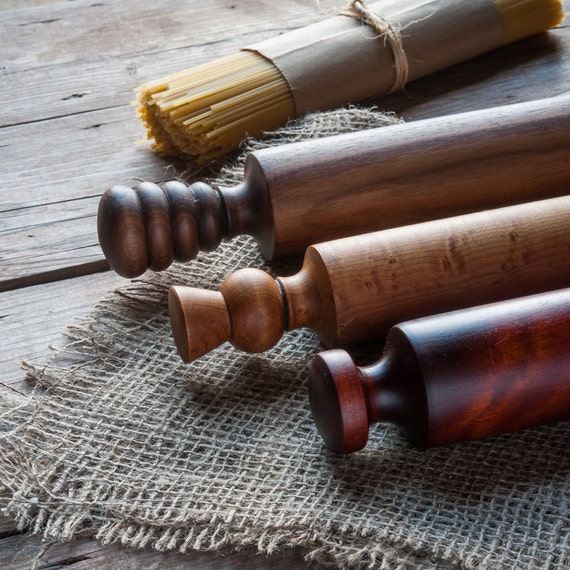 This mornings e-mail from King Arthur Flour had Springerle molds and rolling pins. Springerle is a type of German biscuit with an embossed design made by pressing a mold onto rolled dough. The key to using them is allowing the impression to dry a little before baking, as that preserves the detail of the pattern. Etsy has had several rolling pins with gorgeous designs that have been featured in the newsletters recently.
Another thing we watched them use on the show was a pastry cloth. Now, I've used a cloth to cover my dough while rising but I had no idea how many uses those have as well. I've found a few for you and the instructions to make your own if you're so inclined. I kind of think I might need a real one now. In fact I think I'm going to go rummage through that box of antique and vintage linens to see if I don't already have one. I sure know where to find one, if there isn't!
This weeks blog post was an educational one for me, I love when that happens! Since I do enjoy baking a thing or two that's a double bonus.
The holidays are about sharing and caring, and I'd like very much to get the word out that hand made is heart made as is the holiday season.
SO, If you like this post, and I hope you do! Please feel free to share it! Blog about it, Tweet it, Pin it, Instagram it and give it a shout out on FaceBook. Don't forget to come back each week for another post in this years series: The Hand Crafted Kitchen
Thanks for stoppin by!
We'll see ya next week!